Designed and tested core hardware and software components offer a jumpstart to many advanced electronic design projects.
Vanteon's design services are complemented with fully licensable intellectual property and products.
This "licensable intellectual property" can be adapted by Vanteon's engineering teams to meet specific client requirements — shortening time-to-market and reducing total development costs for our clients. In some instances, our licensable IP has provided a platform for new generations of products.
Depending on the project, the Vanteon IP used can be provided to the client as part of the project deliverables. The client can then modify and reuse it as they wish in future product developments, with or without Vanteon's support.
Vanteon's portfolio of solutions include:
vProtean is a Software Defined Radio (SDR) platform based on the Analog Devices ADRV9004 highly integrated wideband RF transceiver and the Xilinx Zynq-7020 Programmable System-on-Chip (SoC). The vProtean SDR has a custom RF front end that is highly flexible, allowing it to be software configured for the full 30 to 6000 MHz frequency range, and 12 kHz to 40 MHz of instantaneous bandwidth.  This makes vProtean perfect for signal intelligence and multi-band processing applications.


The Vanteon vNassa™ is the perfect wideband Software Defined Radio (SDR) for narrowband applications commonly found in the industrial wireless marketplace.  It provides an optimized balance of performance and cost that is tuned for the industrial market. vNassa is built around a Xilinx Zynq FPGA and Analog Devices ADRV9002 integrated wideband RF transceiver.

The vChameleon™ SDR can be configured for a wide variety of characteristics and behaviors required by the situation, providing a highly integrated, very small but ultra-flexible radio platform. vChameleon™ is perfect for high-performance RF signal processing applications, at a uniquely low-cost point for an agile SDR. vChameleon™ is built around a Xilinx Zynq FPGA and Analog Devices AD936x integrated wideband RF transceiver to obtain an impressive price/size/performance ratio.

The Vanteon vPrisum™ Software defined Radio (SDR) platform provides a highly integrated but very flexible system for high-performance signal processing applications at a reasonable cost. The platform consists of a single module that includes all digital and RF circuitry. vPrisum is built around a Xilinx Zynq FPGA and Analog Devices AD9361 integrated wideband RF transceiver to obtain an impressive price/size/performance ratio. The design is capable of dual transmit and dual receive full duplex.

The Vanteon vImpulse™ and vImpulse2™ radios are software configurable radio transceiver modules designed for long-range data communications with very low power consumption for battery-operated devices. These radio modules are intended for Industrial IoT endpoint applications where high reliability, low cost, and extremely low power are key features.

Vanteon Gateway™ is a modular bridging platform designed to translate between common wireless interfaces and protocols for Internet of Things (IoT) applications. The Gateway™ platform utilizes a Sitara ARM core processor and includes many standard wired and wireless communication interfaces such as Ethernet, USB, WiFi, Bluetooth, Zigbee, Dust Networks and Cellular (2G-4G). Other non-standard or Ad-Hoc standard wireless interfaces are supported through adapter modules such as LoRa, Wi SUN, and proprietary narrowband using built in universal connector interfaces and Vanteon's own vImpulse and vImpulse2™ radios.
Other Solutions
SDR Soft Cores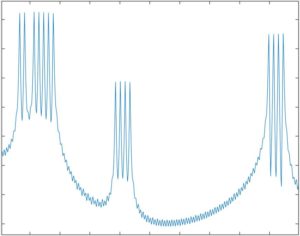 Vanteon has developed many different soft cores for uniform and non-uniform channelizers. These include banks of Digital Up and Digital Down Conversion with efficient folded filter banks with highly resource efficient multi-rate filter designs. Other channelizers include polyphase channelizers and other highly efficient non-uniform based cores.
Other SDR waveform/modem and DSP Intellectual Property (IP) soft cores include:
Digital modulation including AM/FM, ASK, FSK, GFSK, BPSK, QPSK, DQPSK, 8-PSK, CPFSK, 16QAM, 64QAM, MSK, 8VSB, OFDM
Channel Coding including DSSS, Hamming control coding, Reed Solomon, Convolutional/Viterbi coding, LDPC encoding, and more
Synchronization cores including matched filter correlators, carrier recovery, timing recovery, AGC, Costas Loop, and more
Filtering to include FIR, IIR, Multi-rate (Polyphase, Halfband, CIC), Overlap Add / Overlap Save (fast convolution), and more
Multipath mitigation including deconvolution, Decision Feedback Equalizer (DFE), and LMS Adaptive Filtering
Other generic SDR work completed includes signal analysis, modulation detection, spectrum analysis, pulse compression, signal cancellation, acoustic feature extraction, DPD, and more.
Engineering Support Blocks
Looking for product support or to quickly kick off your project? Purchase an Engineering Support Block using any major credit card. Available in blocks of 2, 4, 8, and 40 hours.