Overview
vNassa is the latest Software Defined Radio (SDR) platform from Vanteon Wireless Solutions. vNassa is based on the Analog Devices ADRV9002 highly integrated wideband RF transceiver and the Xilinx Zynq-7020 Programmable System-on-Chip (SoC).  The ADRV9002 is coupled with a custom-designed, performance-enhancing 915 MHz RF front end which provides 1W of transmit power.  Together, these components create a flexible, cost-effective, and highly integrated SDR platform that beautifully balances performance and cost, and is perfectly suited for the narrowband industrial market.
Applications
vNassa's software update capability protects your hardware investment by handling your legacy waveforms today while allowing upgradability to handle future waveforms like Wi-SUN.  Potential applications include the following:
Advanced metering
Distributed automation
Municipal Lighting
Smart parking
Environmental sensing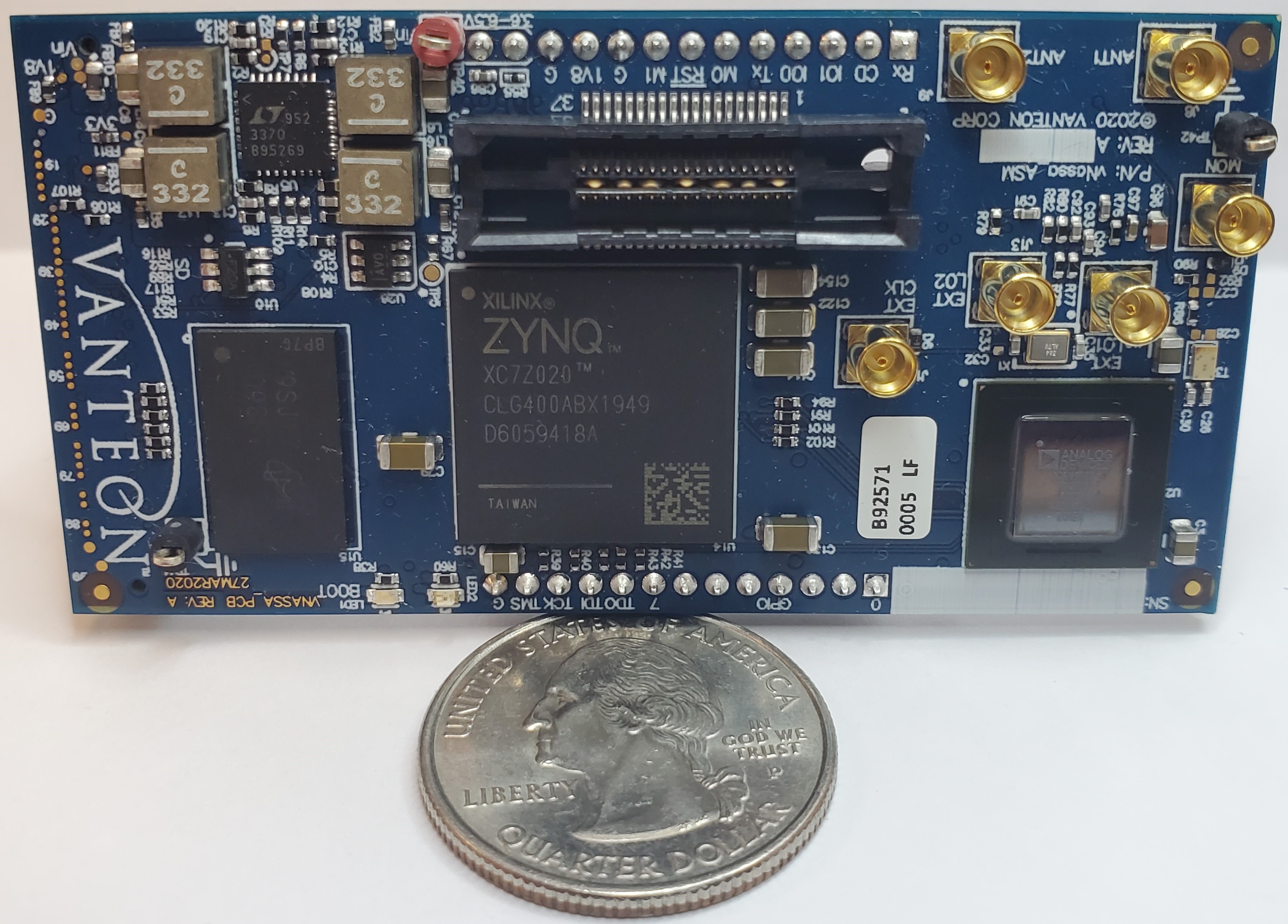 Platform Features
Xilinx Zynq Family FPGA for high-performance signal processing
Dual embedded ARM Cortex 'ÄĒ A9 processor in the Zynq core
Highly integrated, wide frequency range RF transceiver (ADI ADRV9002)
Performance enhancing RF Front End (RFFE) to improve on the transceiver FE
Library of target-agnostic C/C++ software, VHDL firmware, and Matlab/Simulink¬ģ DSP modules providing core functions for radio operations:

Modulation/demodulation (ASK/AM, FSK/FM, PSK/PM, QAM, OFDM)
Digital down/up conversion
Symbol timing recovery/tracking
Carrier recovery/tracking
Filters (FIR, IIR, multi-rate, adaptive)
Automatic gain control
Channel coding
Multichannel TX/RX capabilities
FEC (e.g., convolutional, Reed-Solomon)
Spread spectrum coding
Customizable MAC
Specifications
Support for bandwiths between 12 KHz and 40 MHz
Broad RF frequency range from 30 MHz to 6 GHz with minimal hardware modification
Support for 2 TX and 2 RX
Support for DPD (limits 2 RX operation)
Low power consumption
Fast lock for frequency hopping
Size (cm): 7.3 x 3.7
Have an application that requires a modification not listed above? Reach out to us. Vanteon has been offering electronic engineering services for more than 35 years. We have a diverse team of software, firmware, hardware, and RF engineers ready to customize vNassa for your specific application. Vanteon's IP offerings can be used to jumpstart your customized solution.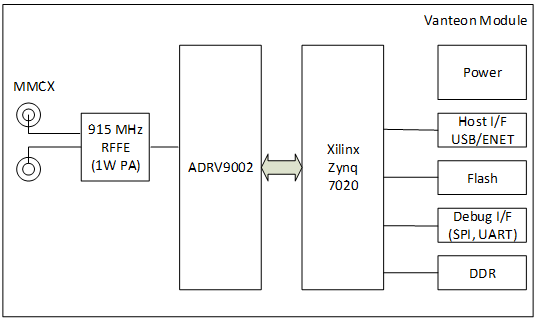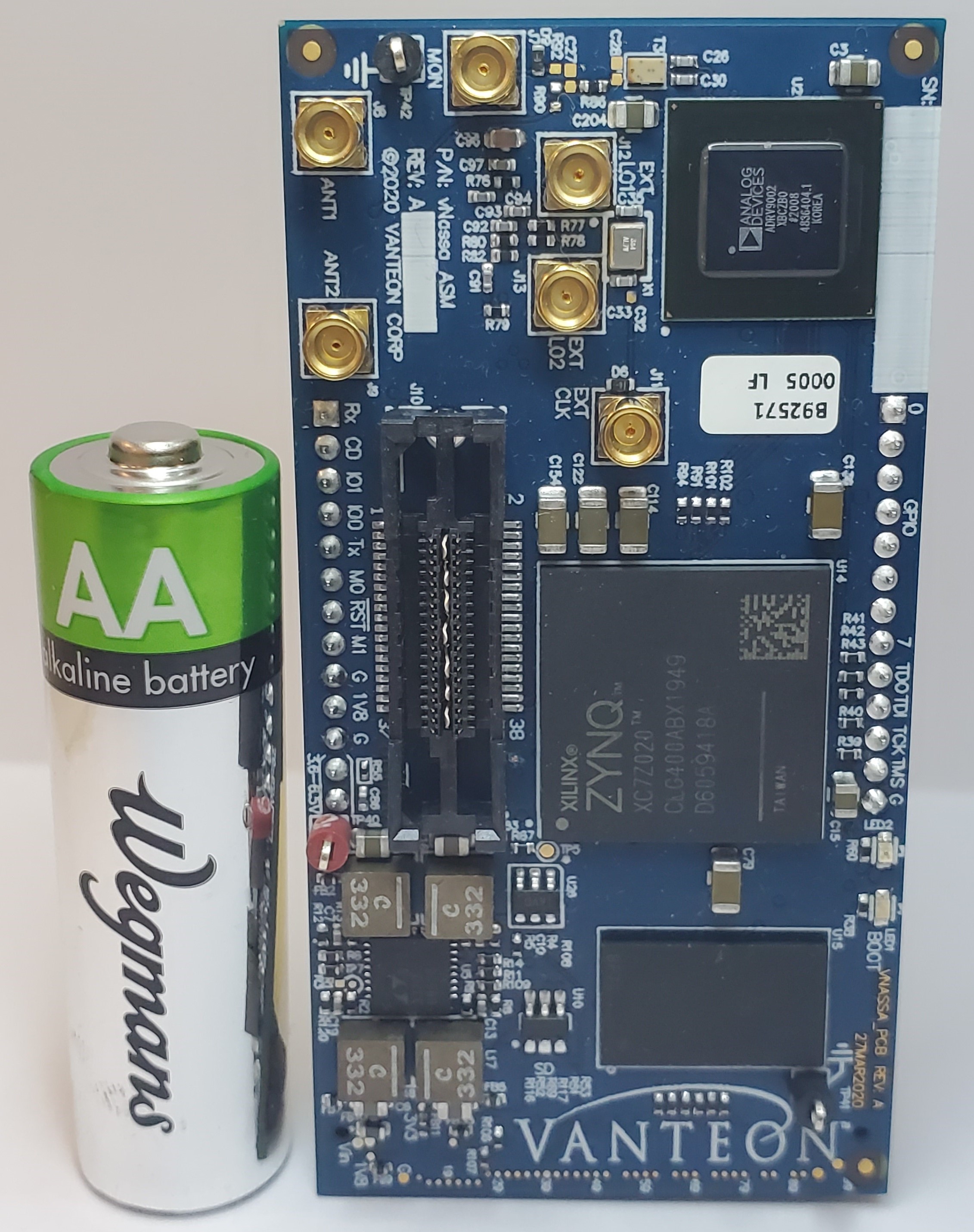 Purchase and Implementation Options
Evaluation Modules
Modules provide experienced RF engineers with a quick way to evaluate Vanteon's vNassa. Contact Vanteon for a quote on a vNassa evaluation module or kit. Lead times apply to these purchases.
Licensing Options
Vanteon offers a variety of flexible options for licensing the vNassa platform. Pricing is based on how much of the vNassa design is utilized in your project. In addition, when bundled with Vanteon's engineering services, significant cost savings can be realized. Our contracts team can work with you to structure an affordable solution whether it is a one-time upfront fee, annual licensing arrangements, or royalty-based agreements.
Product
Vanteon can work with you to provide low to mid-range volumes while you finalize your manufacturing agreements and processes. Our project managers can introduce you to our contract manufacturing partners. These trusted partners have worked with Vanteon for several years often on dozens of projects.
vNassa Demonstration
Coming soon!